Automotive interior trim insulation materials
Description
Wenzhou Chinese Fiber Co.,Ltd Acoustics is one of the word's largest producers of acoustical fiber insulation, and a leading producer of automotive fiber-based die cut and edge sealing products. CICSORB Acoustics is made by melt blowing micro-fiber including diameter 1-3 micron superfine fiber (Polypropylene) and 20-30 micron staple fibers (Polyester). The products has good performances of acoustic insulation, meanwhile it has more characteristics as: Environmental, Light weight, Hydrophobic, Compressible, Flexible installation etc. CICSORB material is the best Thinsulate acoustic insulation alternative materials. It is widely used in many fields, such as: Automobile Industry, High speed train, Air plane, Equipment sound insulation, etc.
· Top layer- acoustic scrim (white /black /embossed- PP or PET fabric)
· Middle layer - microfiber material (also know as the "Web") PP/ PET Bi-component
· Bottom layer - acoustic scrim (White /black /embossed - PP or PET fabric)
Average performance of CICSORB Sound Absorption Products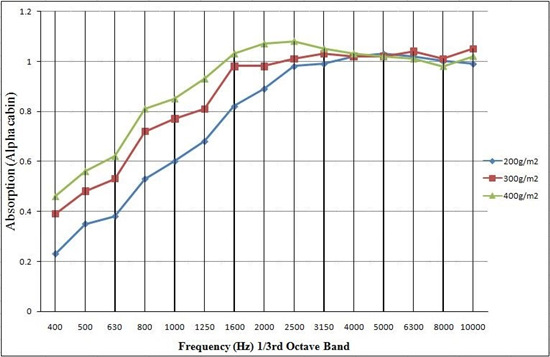 CICSORB acoustics Vehicle Application
1. A-B-C Pillar

2. Door Hole Seal

3. Headliner

4. Rear Parcel Shelf

5. Cargo Load Floor

6. Trunk Trim

7. Floor

8. Door Trim

9. Center Console

10. Fender Liner

11. Engine Under Cover

12. Instrument Panel
Key benefits
· Reduces vehicle weight when compared with felt, foam and polyester materials.
· Easy to compress and highly conformable, enabling installation in smaller cavities.
· Production costs can be reduced as less material is required.
· Hydrophobic, non-woven structure allows both interior and exterior use without the need for a waterproofing barrier.
· Easily recycled as it is a Polypropylene blend the product resists mould and mildew growth so no odors or material degradation occurs.