Automotive NVH solution soft trim material AU4002-6
Description
Automotive NVH solution soft trim material AU4002-6
CIC Acoustic Insulation is a superior sound absorbing materials specifically designed for a variety of acoustic control applications. Its unique double side black fabric surface make it ideal for engine side applications where it can be placed near the source of the sound.
It is compressible, lightweight, hydrophobic, conformable and can easily be die cutting, heat sealed and thermally or sonically bonded to many other substrates.
General Properties
Composition Web

65

% Polypropylene + 35

% Polyester

Composition Scrim

Both side 100% black

Polypropylene fabric

Color

Both sides black

scrim

Material Weight

49

0 ± 10 g/m

2

Material Thickness

26

mm ± 2mm

Density

21

.0 Kg/m

3

Flammability

0mm/min (A-0)

Heat aging

120℃ for 2000 Hours

Tensile Strength

MD: 13

.0-15

.0 N CD: 15

.0-17

.0 N

Moisture absorption

≤ 0.4%

Heat Conductivity

0.032 W/m·K

Dimensions

1.52 X 3

0 meters
Average performance of CIC Sound Absorption Products grouped by weight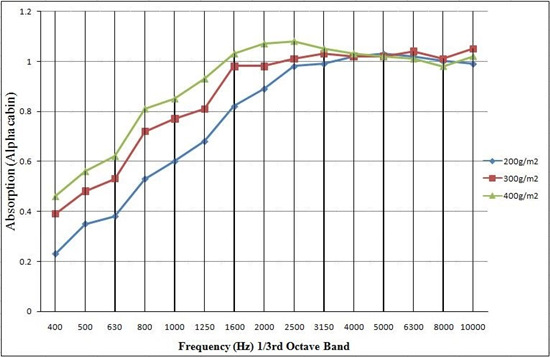 Key benefits
Reduces vehicle weight when compared with felt, foam and polyester materials.

Easy to compress and highly conformable, enabling installation in smaller cavities.

Production costs can be reduced as less material is required.

Hydrophobic, non-woven structure allows both interior and exterior use without the need for a waterproofing barrier.

Easily recycled as it is a Polypropylene blend the product resists mould and mildew growth so no odors or material degradation occurs.