CICsorb® Sound Absorbing Insulator materials is made by bi-component microfiber including diameter 2 - 4 micron Polypropylene (PP) melt blown microfiber and 20 - 30 micron Polyester (PET) staple fibers. The product has good performances of acoustic insulation meanwhile, it has more characteristics as: Environmental, Light weight, Hydrophobic, Compressible, Flexible installation etc. It is widely used in automobile interior and exterior soft trim NVH solutions as: A B C Pillar Insulation, Door Trim Panel Acoustic Insulation, Engine Insulation, Instrument Panel Insulation, Fender Liner Insulation, Quarter Trim Panel Insulation, Trunk Trim Insulation, Cowl Insulation, Wheelhouse Insulation, Headliner Insulation, Floor Insulation, etc.
Meets Automobile OEM Specifications
FORD: WSS-M99P32-B, WSS-M99P32-C, WSS-M99P32-D1/D2/D3/D4/D5/D6, WSS-M99P32-E1
TOYOTA: TSL3505G Silencer pad materials
BMW: TL 9 211 895.6 Sound insulation light weight non woven (PP/PET)

GM: GMW14194 Fibrous Sound Absorption Materials, GMW14177 (Level A, Level B, Level C)
VOLKSWAGEN: TL 52608, PV 8223 (Class1, Class 2, Class E)
HYUNDAI - KIA: HYUNDAI / KIA MA 341-15, HYUNDAI / KIA MA 341-17, MS 341-15, MS 341-17, MS341-19
FIAT CHRYSLER AUTOMOTIVE: MS-HZ-100

HONDA: 8460Z-STX-A000 Sound-Absorbing Insulator Cabin Interior (Level 1, Level 2, Level 3, Level 4, Level 5)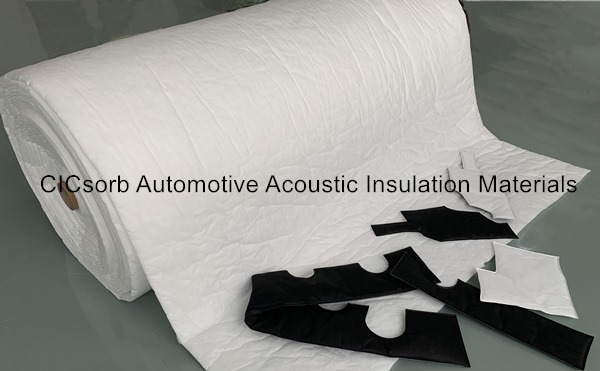 CICsorb® Thermal Insulation Lining is made by melt blowing microfiber including diameter 1 - 4 micron superfine fiber (Polypropylene) and 20 - 30 micron staple fibers (Polyester). The product has superior property of Light weight, Thin, Soft, Breathing and Moisture resistant. It is widely used in Jackets, Gloves, Hats and Boots to help keep you warm when it is cold outside. The unique microfibers make up material insulation work by trapping air molecules between you and the outside. The more air a material traps in a given space, the better is insulates you from the cold outside air. Because the fibers in insulation are finer than the fibers used in most other synthetic or natural insulation, they trap more air in less space, which naturally makes insulation a better insulation.
Composition: PP (50% - 80%) + PET (20% - 50%)
Weight: 40 g/m2 - 600g/m2
Thickness: 3 mm - 40 mm
Color: White, Black, Embossed as per specs

CICsorb® Spill absorbent material is made by melt blowing microfiber 1 - 4 micron superfine fiber (Polypropylene). The materials are specifically designed to absorb most liquid spills. They can be used in to absorb and the preventing or controlling: oil class, the solvent, the acid and alkali etc. In production manufacturing industry, petroleum and chemical industry, the energy electric power industry, the shipping industry, the urgent rescue, the harbor, the aviation, the public security fire prevention, the medical service industry laboratory and so on any existence revelation place can be applied.
Composition: 100% PP
Weight: 100g/m2 - 600g/m2
Color: White, Gray, Yellow, Pink
Type: Pads, Mats, Rolls, Booms, Socks, Pillows